Cool Room Cleaning
Technokleen uses an advanced residual microbial biocide to safely clean and protect units from bacteria and mould. Much more than just the superficial cleaning of external surfaces, our technicians use custom equipment to penetrate the inner coils, hygienically cleaning without causing equipment damage.
Benefits
Electricity costs are significantly reduced
Correct airflow restores cooling capacity
Controls bacteria and mould for a minimum of 6 months
Enhance food safety and produce shelf life
Rooms remain mould-free and visibly cleaner less frequent cleaning is required
Improves reliability, less breakdowns often the unit isn't broken its simply dirty.
Non corrosive residual compunds remove biofilm and prolong asset life
---
​
Professional cleaning brings significant benefits — reducing electricity costs enhancing food hygiene by controlling the spread of bacteria and mould throughout the food proccessing egpuiments.
---
​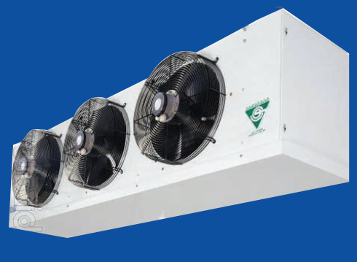 Looking for an efficient service for cold room cleaning?
At Technokleen, we provide a comprehensive range of cleaning solutions and cool room cleaning is a part of our specialist cleaning service. We take immense pride in the reliable and robust cold room cleaning to ensure that your space is hygienic and well-maintained. As an experienced provider of cleaning services, we are aware of the importance of keeping your cool room up and running. With our maintenance cleaning services, you can prevent the growth of bacteria and fungus and ensure that your cool room is free from odour. If you have been looking for reliable service for a thorough cold room cleaning, do not hesitate to get in touch with us.
The Benefits of Cold Room Cleaning
Wondering what makes it important to get the cold room cleaned at regular intervals?
With our thorough cleaning services, you can ensure that:
There are no contaminants
The probability of food spoilage is reduced
Improved airflow ensures the smooth functioning of the system
The cooling capacity is also increased
Cleaning also helps in maintaining an accurate and consistent temperature
At Technokleen, we value your time and take utmost care to ensure that the cleaning is done to your complete satisfaction. Our service is efficient, quick and designed for your convenience. The minimal downtime ensures that there is no disruption in your business and we assure you of leaving your space clean and dry.
Experts in All Types of Cold Room Cleaning
We make use of advanced cleaning methods and are well-positioned to take up any cleaning requirement with ease. We understand the importance of cleaning a cool room and our cleaning service adheres to exacting standards. We ensure that health and safety requirements are met and if you choose to avail our service, you can be sure that your facility meets the strict level of cleanliness. No matter the scale of the requirement, feel free to speak to our experts to find out more.
Professional Cold Room Cleaning Services
We make use of safe and effective cleaning techniques and our cleaning plan is tailored to suit your precise requirements. We understand that every cool room facility is different and our service is entirely tailored to your needs. We use safe chemicals and our cleaning methods ensure the refrigerated room is maintained properly.
Our cleaning experts go the extra mile to get the job done right and if you avail our service, you can have peace of mind that the cleaning job will be handled efficiently. In case you have any doubts or would like to know more about our service, do not hesitate to get in touch with us. We will be happy to discuss your requirements and design a cleaning plan that best works for you. Call us today to find out more.
Our Services Include:
Dismantling units and cleaning the fan grills, fans, exchange coils and inside and outside of the condenser box. Pre-clean and post-clean mould samples are also taken.
Clean coolroom walls, ceiling & floors at Client requiest.
Clean interior and exterior of HVAC/R unit.
Remove fans and motors, clean both sides of fan blades and safety grill.
Clean heat transfer coils.
Disconnect and flush drain lines.
Clean internal and external surfaces of fan unit.
Remove and clean condensation drip tray. Fit a condensate pan tablet to control mould and other contaminants.
Clean surfaces surrounding fan unit.
A comprehensive service report is provided, together with pre- and post-clean photos
Assuaring the work with certificate of Assurance under HACCP standard.
ATP Monitoring System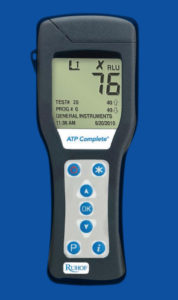 For our clients peace of mind Technokleen use state of the art hygiene monitoring system to show how clean your food processing plant or cool room after we finish our professional service. ATP swab system gives best and accurate real time measures with complete reporting system to HACCP standards.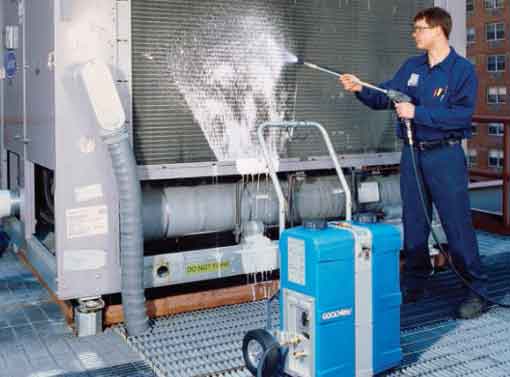 PREVENTING CHEMICAL WE USE
Technokleen use best commercial-grade, EPA registered and ready-to use treatment that controls and inhibits future growth of odor-causing bacteria, like (black) mold and mildew, in HVAC/R systems.
CLEANING CHEMICAL WE USE
Our chemical is powerful enough to clean even the dirtiest, greasiest coils, but is safe on coils and safer for you and your co-workers. is a safer, non-acidic blend of powerful. fast-acting detergents, specifically formulated to clean even the dirtiest evaporator and condenser coils. plus its CONCENTRATED so it's like you are getting four times as much cleaner as you usually do. This cleaner features powerful cleaning agents and degreasers, plus an expanding and self-advancing foam formula – designed to penetrate coil beds. It is non-toxic, allowing for safe handling and is safer than acids, or highly caustic cleaners, on coils and on workers.
Commercial Kitchen And
Refrigerated Trucks Cleaning & Sanitizing
Technokleen provides specialist cleaning service to commercial food manufacturing plants and kitchens all around Australia.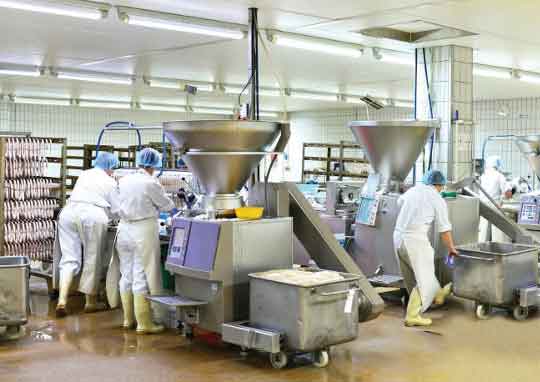 Services We Provide:
Clean and sanitize all the plant room walls, ceiling and floors.
Clean and sanitize all the food processing equipment's, conveyer belts
Provide full report with ATP monitoring system
Fully trained staff to HACCP Standards
Use world's best chemicals for cleaning and sanitizing process
Refrigerated Trucks Cleaning & Sanitizing
It is important that vehicle carry all food products also comply with all the food hygiene standards. Technokleen provides full clean and sanitizing service to refrigerated trucks and Vans. Our trained staff are well qualified to clean refrigerated unit and sanitize to prevent growing mold for next 6 months. Also we can offer the service to clean and sanitize inside of the cabin where all the food products will be stored.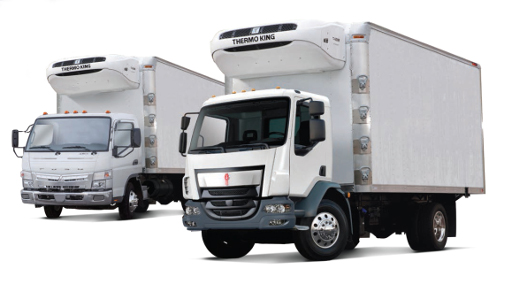 Dirty coils will drastically increase the costs of running your HVAC systems. plus but undue strain on system components.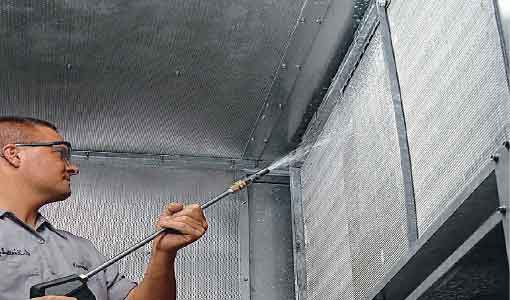 Split System Cleaning
Technokleen offer Cleaning and Sanitising all brands and types of air conditioning systems. Specialising in Split System Air Conditioning which includes Hi wall, 4 Way, Under Ceiling and Floor Cassettes. We provide specialist maintenance for both Domestic and Commercial Ducted air conditioning systems. 12 Month Mould FREE Guarantee on every premium service.
Benefits
Reduce running and maintenance cost Improve asset value
Reduce risk of asthma and allergy
Cleaner air for healthy lifestyle